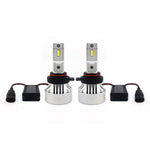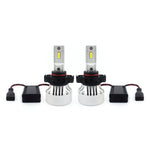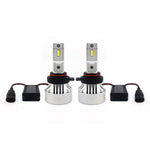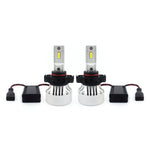 (14-18 GMC Sierra) LumX Headlight/Fog Light Package
Regular price
$149.99 USD
Regular price
$0.00 USD
Sale price
$149.99 USD
Unit price
per
60 Day Hassle Free Returns
Same Day Processing - Orders Before 12pm Eastern
In Stock Ready to Ship
For GMCs with Halogen Headlights
Save 17% when ordering the package deal vs ordering individually 

Package Deal for 2014-2018 GMC Sierra
Low/High Beam, Fog Lights 
Technology:
With the LumX LED Set you're getting all the technology of some of the leading LED sets in the market, at about 60% of the price! Don't believe us? Give them a try and if you don't love them simply send them back to us with a 30-Day Money Back Guarantee.
The new LumX forward lighting LED set utilizes the latest automotive grade multi-core LED Chip technology to create a focused beam pattern that, unlike a lot of LED kits on the market today, actually allows you to see much farther down the road. Don't be fooled by high lumen claims, as this is hardly what matters when it comes to a quality forward lighting bulb. What matters is the ability of the bulb to create a powerful, focused beam of light that originates as close to the original OEM source as possible. With the LumX Set, the chips check all the boxes. 
Don't be fooled by high lumen claims, the LumX Sets cost more to produce than most the cheaper LED headlight sets sell for on amazon. 
Installing:
When it came to the LumX Set's footprint we wanted to ensure that it would fit in at least 95% of vehicles. So we designed it to have a smaller footprint than its predecessor. Which sold 10's of thousands sets. And rarely ever had an issue with being too bulky to install on a specific vehicle. So, rest assured this set will fit your applications.
Dust cover? 
Engine bay parts close to the bulb?
When installing LED bulb positioning is CRITICAL, although our sets are adjustable 360 degrees. We preset them so that when you install it, 9 times out of 10 it should already be exactly how you need it positioned. Making the installation of these plug and play bulbs, that much easier for you. 
Materials/Build:
It can be hard to tell from the photos, but practically every part of this bulb is constructed from aluminum. No cheap plastic parts that are going to brake as soon as you install them and make you take the time out you day to send us an email. 
Bulb housing, aluminum
Retaining collar, aluminum
Fan housing, aluminum
We utilize a dual ball cooling fan, not only does this make the fan more resistant to water and dust. But it also creates a super quite bulb that isn't going to annoy you rom hearing the fan run while you're parked. This was a common complaint on its predecessor that we were sure to address. 
Rest Assured You're Covered
Many of our products come with a limited lifetime warranty! If our limited lifetime warranty is not listed it comes with our minimum
1 year warranty!
We don't make you ship back the old bulb.
We know your time is valuable. We don't want to ask you to waste it driving to the post office. Have a warranty issue?
Contact our daily customer service and we'll get you taken care of!
'14 GMC Sierra 1500 headlights and reverse lights
100percent recommend super bright lights all the way around can easily get around in the dark with 5% tint
Great Product
My son convinced me to puchade the LUMX lights she had already had a set. WOW, what a difference these lights make. It's like night and day. Easy to install, I couldn't wait for it to get dark!
Headlights and fogs
So far so good, very pleased!
Love the lights but light setup could be easier.
I have used many LEDs from Diesel LEDs LUMINEX Bulbs and all have been fantastic. I trust them to work as they say. 100%... I am rating these bulbs as a 3 only because the setup of the bulb was more of a headache and should be reviewed for better engineering. Trying to align the bulbs with socket is truly a pain. The set screw to lock the socket to the bulb should be longer and probably screwed into the socket to lock the socket better. BUT functon of the light is AMAZING... I have enough of these bulbs to know. I have helped others with these. I trust them. Overall, the setup could be better for this style of light for GMCs.
Headlight / fog light package
I am very pleased with the light these headlights and fog lights produce. However I have one currently that comes and goes every now and then. Therefore I ordered another set to be prepared when it went out for good. I am very pleased with dieselleds customer service, as I lost a fog light shortly after I installed my initial set 2 years ago. They sold me an individual one to help me out of my dilemma. That's the kind of customer I appreciate.
Free First Class Shipping
Fast Processing
Ships same day
Order by 12pm Est.
60 Day Returns
Easy, hassle free returns
Expertise
We've got years in the industry to help with any questions