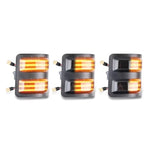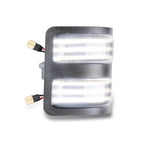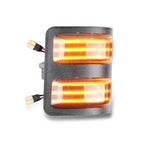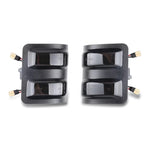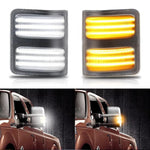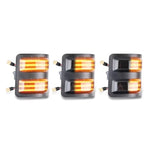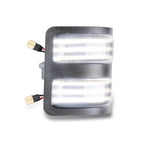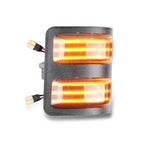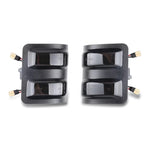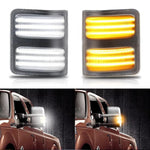 VR Mirror Blinker Switchbacks GEN 2 (2008-2016)
Regular price
$119.99 USD
Regular price
Sale price
$119.99 USD
Unit price
per
Sale
Sold out
60 Day Hassle Free Returns
Same Day Processing - Orders Before 12pm Eastern
In Stock Ready to Ship
Description
We have incorporated everything our customers liked about our Gen 1 VR Mirror Switchbacks and fixed everything they didn't like to create our Gen 2 VR Mirror Switchback Blinkers
*Includes both the Right & Left sides*
First, we have added a sequential feature. This allows the yellow light to blink slowly in a sequential motion when it switches to the blinker. Please see video above for reference. ⁃ We have improved the fit to allow for easier installation that is now the same as OEM, so lights now clip in with ease!
We've improved the electrical connection with our new Gen 2 kit, which has connections covered with metal copper to prevent any of the connection issues our previous Gen 1 kit had.
We've ditched the single row of LEDs and put in 3 rows of LEDs! This makes them much brighter for a better overall look!
We've changed the outer texture of the lights. Our Gen 1 kit was gloss black. We have designed our Gen 2 kit so that the outer part of the blinker, the part that does not contain LEDs, matches the texture and color of the mirror on your 2008-2016 F250/350/450. This makes for much cleaner OEM look!
These function as a switchback. This means that while in running light mode the housing will be illuminated WHITE, and when the blinker is switched on the light will be flashing YELLOW in a sequential manner.
These are ERRROR FREE AND WILL NOT HYPER-FLASH as they have built in resistors to prevent this!
Rest Assured You're Covered
Many of our products come with a limited lifetime warranty! If our limited lifetime warranty is not listed it comes with our minimum
1 year warranty!
We don't make you ship back the old bulb.
We know your time is valuable. We don't want to ask you to waste it driving to the post office. Have a warranty issue?
Contact our daily customer service and we'll get you taken care of!
Extremely happy.
They work great but if you have turn signal in led front and back you will need resistors. These work flawlessly until you turn on parking/headlights on. While headlights are on mirror blinkers get confused and randomly blink back and forth between signal and running lights. If you are running stock bulbs in headlights and tail lights you will not need resistors.
Switchbacks GEN 2
I ordered a set off of eBay and they didn't fit correctly then I ordered these and they fit perfectly so I ordered the whole head light high/low and fog light set as well
They're a little pricey for my taste but great products
Look way better than expected. Very pleased
Love the lights!
I have a 2013 F250. Make sure you have the front and back switchback blinker lights installed when you do the mirror lights otherwise you may notice a polarity interruption. Once all
the blinker lights are installed, the mirror lights will work properly. If you have a truck that's a few years old, the O-ring around the mirror light plug may crumble. A major online store sells them, 6x12x3mm. Have these on hand first or the light plug will rattle and may not be weather protected. I used two on each plug and it worked great. The mirror lights are very easy to install. I have since switched all my lights to dieselleds and absolutely love them. Great customer service too.
Great lights
The mirror lights fit perfectly. They look really good. Shopping was fast. The only thing is that I wish they came in an all amber option. Other then that they are excellent!
Free First Class Shipping
Fast Processing
Ships same day
Order by 12pm Est.
60 Day Returns
Easy, hassle free returns
Expertise
We've got years in the industry to help with any questions