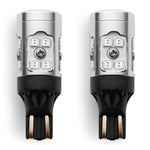 2014-2021 Tundra Rear Blinker Light Kit
Regular price
Sale price
$39.99 USD
Unit price
per
60 Day Hassle Free Returns
Same Day Processing - Orders Before 12pm Eastern
In Stock Ready to Ship
This package contains the 2 bulbs required to complete the Brake Lights on your 2014-2020 Toyota Tundra.


Reasons to upgrade your Brake Lights
These bulbs put out a staggering 1000 Lumens of light (Per Bulb) which drastically increases the visibility of both your rear running lights and brake lights. (450 Lumens for running light) (1000 Lumens for Brake Light) These bulbs could quite honestly be brighter than you need your brake light to be. We guarantee you WILL NOT be disappointed in the output of these bulbs.
You get the added benefit of the immediate illumination. LEDs illuminate to 100% brightness IMMEDIATELY as soon as they receive power. Traditional halogen bulbs don't do this (it takes about a second). What this means is the initial response of the driver behind your seeing your brake lights is going to happen that much quicker. Which can really make a difference when traveling at speeds of 60 mph+.
It makes your Running Light/ Brake Light a TRUE Red Color. The stock halogen bulb is a yellowish bulb behind a red plastic lens. After installing these you had a RED LED bulb behind a red plastic lens. This creates a true modern red appearance.
Design
We've incased the bulbs in a chrome housing so that the bulb blends right in with the reflective housing inside of the brake light housing. This way you don't have the unsightly look of an aftermarket bulb in your brake light housing. It retains the stock appearance while delivering a far from stock output!
Rest Assured You're Covered
Many of our products come with a limited lifetime warranty! If our limited lifetime warranty is not listed it comes with our minimum
1 year warranty!
We don't make you ship back the old bulb.
We know your time is valuable. We don't want to ask you to waste it driving to the post office. Have a warranty issue?
Contact our daily customer service and we'll get you taken care of!
These are bright!
I now have replaced my headlights, fog lights, interior lights, cargo light, 3rd brake lights, back up lights, rear brake lights, and taillights. These are awesome!
Great company
I had a few questions about install and the response was quick and just what I needed! Great company and I look forward to see how the lights work. Thanks!
Awesome LEDs!
The LEDs are awesome, very bright! Be aware though, there is some misinformation given in the description. Make sure you read all the specifications for these bulbs, as the specifications listed are correct. In the description, it is written that these LEDs have an output of 1000 lumens, but when you read the specs, it says 600 lumens. 600 lumens is still nothing to cry about as they are true red LEDs, and are VERY bright. Otherwise, I would give 5 stars for this product!
2014-2020 Tundra Rear Blinker Light Kit
Blinker and REVERSE LIGHTS
These things are serious. I love them. Help me so much backing in a trailer at night.
Free First Class Shipping
Fast Processing
Ships same day
Order by 12pm Est.
60 Day Returns
Easy, hassle free returns
Expertise
We've got years in the industry to help with any questions