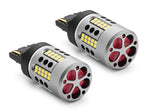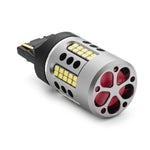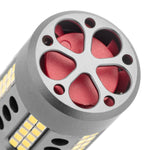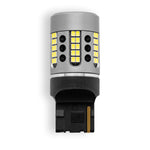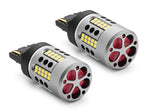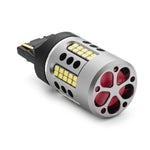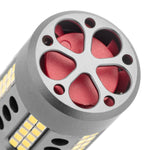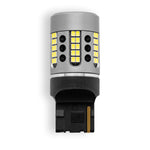 7440 LumX-FC (Reverse)
Regular price
Sale price
$89.99 USD
Unit price
per
60 Day Hassle Free Returns
Same Day Processing - Orders Before 12pm Eastern
In Stock Ready to Ship
Fan Cooled Technology in a replacement bulb!
(Sold as set of 2 Bulbs)
LumX has been pushing the boundaries of what is possible when it comes to external LED bulbs. While other manufacturers focus on headlight bulbs, we're trying to create extremely bright, efficient replacement bulbs for other applications.
The LumX FC series is the latest example of this push. We packed 50 separate EMC LED chips onto this one bulb! This creates a staggering 2000 Lumens PER BULB! This would not be possible without an efficient cooling method. For this we designed, from what we've seen, to be one of the first reverse lights with a built-in electronic fan to cool the bulb!
There are certain applications where our normal heat sink cooled reverse light set will not work. For those applications we've created the FC series! "Fan Cooled"
This creates an extremely universal bulb that will work on any application where the socket fits!
Bulb plugs into a circuit base?
Vehicle have blind spot monitoring?
Long as its a 7440 base, this bulb will fit
Rest Assured You're Covered
Many of our products come with a limited lifetime warranty! If our limited lifetime warranty is not listed it comes with our minimum
1 year warranty!
We don't make you ship back the old bulb.
We know your time is valuable. We don't want to ask you to waste it driving to the post office. Have a warranty issue?
Contact our daily customer service and we'll get you taken care of!
Worth every penny!
Saw a set a friend had just installed. Didn't even hesitate to order them. If your tired not being able to see well while backing up here's your solution.
Not even close to the right setup for my truck won't fit with the harness at all
Awesome
Better than I expected! I've been telling everyone about them.
Best light ever
By far the best light in the game. I have a long dark driveway and it light it up far beyond my expectations. Thanks
Free First Class Shipping
Fast Processing
Ships same day
Order by 12pm Est.
60 Day Returns
Easy, hassle free returns
Expertise
We've got years in the industry to help with any questions