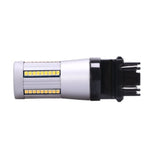 (7440) Ultra-B LED Reverse Light Kit
Regular price
$105.00 USD
Sale price
$64.99 USD
Unit price
per
Sale
Sold out
60 Day Hassle Free Returns
Same Day Processing - Orders Before 12pm Eastern
In Stock Ready to Ship
Description
(Sold as set of 2 Bulbs)
Not Like Most Other Bulbs
Although they may look similar to other LED Bulbs you've seen you'll quickly notice a difference when you feel the weight these bulbs have to them. Packed with an array LED's on one bulb!
Brightness and Features
The excellent heat distribution allows the LED's on the Ultra-B Bulb to produce 2800 Lumens Combined! The Ultra-B Bulbs preform more effectively on vehicles with vertical facing bulbs with the projection lens on the top of the bulb increasing the penetrating distance 3X's more than bulbs without them!
Reasons to choose the Ultra-B Kit over the Lumenex Kit
Other then being slightly brighter, there are two main factors that would make the Ultra-B Kit a better choice for your vehicle.
#1 Some vehicles have boards that the bulbs install into, then the board is installed onto the tail light housing. These applications require that the bulb plug directly into the socket. The Ultra-B Bulbs are perfect for this application because they install just like stock bulbs!
#2 The Ultra-B bulbs would preform better for you would be that you have a tail light housing in which the bulb is positioned vertically. This accounts for most tail light designs, this positioning will enable you to get the most out of the Ultra-B bulbs design with the projector lens on top of the bulb adding incredible depth to your reverse visibility. 100% CanBus Compatible!!! These bulbs will not only not cause bulb out errors, but they can even be used as turn signals without hyper flash! 90% off the LED Bulbs on the market are between 7-8 Watts. The Ultra-B Bulbs are 18 Watts!!! This means there's no error problem for the OBC and the bulbs could function properly as turn signal bulbs.
Rest Assured You're Covered
Many of our products come with a limited lifetime warranty! If our limited lifetime warranty is not listed it comes with our minimum
1 year warranty!
We don't make you ship back the old bulb.
We know your time is valuable. We don't want to ask you to waste it driving to the post office. Have a warranty issue?
Contact our daily customer service and we'll get you taken care of!
Perfect fit for 2021 Jeep Wrangler
These bulbs works so much better than the factory ones I can actually see when backing up in the woods!!
Awesome lights
The reverse lights are so bright and work amazing. Thank you Dieselleds for this awesome product
Free First Class Shipping
Fast Processing
Ships same day
Order by 12pm Est.
60 Day Returns
Easy, hassle free returns
Expertise
We've got years in the industry to help with any questions