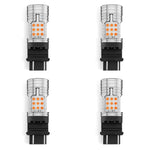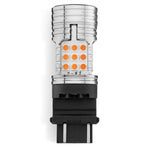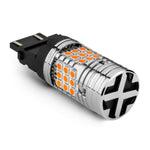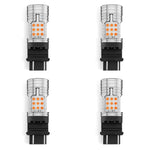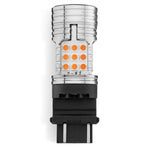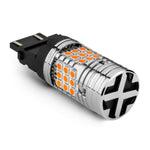 LumX-FC 3157 Amber (Set of 4)
Regular price
$179.99 USD
Regular price
Sale price
$179.99 USD
Unit price
per
Sale
Sold out
60 Day Hassle Free Returns
Same Day Processing - Orders Before 12pm Eastern
In Stock Ready to Ship
Description
Set of (4) LumX-FC Amber
Comes with all 4 bulbs needed for your front blinkers (Amber)
When it comes to keeping your LED blinkers performing at their best, look no further than the LumX-FC fan-cooled LED blinkers. An industry new for your car or truck.
Industry Unique Fan Cooling Technology
Not only do our LumX-FC LED blinkers provide maximum visibility on the road, but their advanced fan cooling system ensures that the high-powered LEDs stay cool and performing at their best, even during extended use. Say goodbye to overheating and hello to optimal performance and longevity.
Our LED blinkers are easy to install and built to last, making them the perfect solution for all your signaling needs.
Most advance CANBUS Technology Available
This means, whether you're using them as turn signals, brake lights, or hazard warning lights, you can rely on our fan-cooled LED blinkers to NOT hyper-flash and work properly in all applicable sockets.
Chrome plated housing for a clean OEM look
One thing that's always bothered us with aftermarket LED bulbs, is when you install it, and the bulb has bright colors on the bulb itself. Which then show on the reflectors housing. Causing an ugly hue to the reflector housing. This is why, not only do we not design our bulbs with any colors that will reflect. But we also chrome plate the bulb, so it blends right in with the hosing. Blending in even better than the OEM bulb in our opinion, for a clean "non tacky" look.
Upgrade your signaling system today with our LumX-FC LED blinkers designed for trucks and cars. With their advanced cooling system, you can trust that your blinkers will be bright, attention-grabbing, and long-lasting. This is why we back them all with a
2 YEAR WARRANTY
Don't wait - get your LumX-FC fan-cooled LED blinkers today and enjoy the benefits of cooler, brighter, and longer-lasting performance on the road!
Rest Assured You're Covered
Many of our products come with a limited lifetime warranty! If our limited lifetime warranty is not listed it comes with our minimum
1 year warranty!
We don't make you ship back the old bulb.
We know your time is valuable. We don't want to ask you to waste it driving to the post office. Have a warranty issue?
Contact our daily customer service and we'll get you taken care of!
Diesel leds the best!
I have lots of quality lightbulbs from this company
Installed brake lights and turn flashers in the back of my Ram 1500.
Leaving on a long 2 week driving trip and I wanted more visibility for my Ram while on the road. Installed the lights on the rear and I am shocked at how visible these really are. If someone were to run into the rear of me now says they did not see me while signaling or braking then I'll know they were distracted. Or blind. No idea how long these will last but I'm hoping a long time. Tried to put on a short video but it seems I cannot on here.
3157 switch back
Replacement lamps work great, they are more sleek in the chrome finish compared to the original black and orange design
Awesome!
The difference between the old incandescent bulbs and the Diesel LED amber bulbs are like night and day! Love them and all of the other products I've purchased from them!
2017 Tundra Amber Blinker
Love the light. My only concern is my first set lasted less than 2 years before one of them quit working. They did not have the cooling fan built in like the new style. Hopefully these will last longer.
Free First Class Shipping
Fast Processing
Ships same day
Order by 12pm Est.
60 Day Returns
Easy, hassle free returns
Expertise
We've got years in the industry to help with any questions