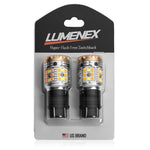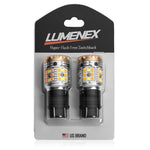 Lumenex Switchback Set (3157 CK)
Regular price
$89.99 USD
Sale price
$49.99 USD
Unit price
per
Sale
Sold out
60 Day Hassle Free Returns
Same Day Processing - Orders Before 12pm Eastern
In Stock Ready to Ship
Description
Solves the issue LED Blinkers have had since day one.
LEDs have always had one big issue when it came to using them in a blinker application, they Hyper-Flash. This is because LEDs do not create enough resistance to show the vehicle that there is a working bulb there. So the vehicle causes the blinker to flash rapidly which can be extremely annoying.
THESE BULBS WILL NOT HYPER FLASH!!!!
The Lumenex Switchback Bulbs solve this issue with their built in resistor. This means this bulb is 100% Plug and Play. We've designed it this way because we know that no one wants to splice into wires and install a cheap resistor on their new or used vehicle.
Switchback Function
These Switchback Bulbs are meant to be used in an application where the front running light, and the blinker is the same bulb (they function like this on most all trucks) Switchback Bulbs functions as follows. When the running light is on the bulb is illuminated white. When you engage the blinker, the bulb begins to flash yellow. When you disengage the blinker it returns to its pure white color. This makes the front end of you vehicle look a lot cleaner, with a modern all white (when coupled with LED headlights) look without any amber colored lights.
These will still work on vehicles that use the front bulb only as the blinker ONLY
If your front blinker functions ONLY as a blinker and not as the running light and the blinker. This Switchback Kit will still work for you. HOWEVER only the yellow blinker function will work on this style application. But it will still work on that application. This is because the vehicle is not set up to give power to the tabs that illuminate the white running light part.
Rest Assured You're Covered
Many of our products come with a limited lifetime warranty! If our limited lifetime warranty is not listed it comes with our minimum
1 year warranty!
We don't make you ship back the old bulb.
We know your time is valuable. We don't want to ask you to waste it driving to the post office. Have a warranty issue?
Contact our daily customer service and we'll get you taken care of!
Brightest blinking lights
They work great and for with my truck perfect had no problems with them and everything went smooth
Fast shipping excellent product and service
The BEST
A friend was talking about the backup light on his truck and I had one out on my Dodge. I think I went a little crazy because I got lights for the Dodge and the Tundra. I am so satisfied with the product and will continue to do business with Dieselleds.
2005 Tacoma switchback
I really like the brightness of these lights. I have DRL however, they do not switch back as advertised. It's a constant orange. If not for that it would be 5 stars
Lumenex Switchback Set (3157 CK)
Free First Class Shipping
Fast Processing
Ships same day
Order by 12pm Est.
60 Day Returns
Easy, hassle free returns
Expertise
We've got years in the industry to help with any questions