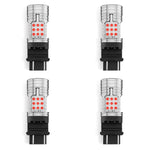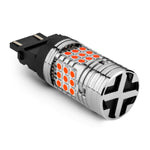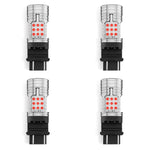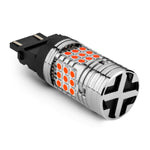 LumX-FC 3157 RED Running / Brake (Set of 4)
Regular price
$179.99 USD
Regular price
Sale price
$179.99 USD
Unit price
per
Sale
Sold out
60 Day Hassle Free Returns
Same Day Processing - Orders Before 12pm Eastern
In Stock Ready to Ship
Description
Set of (4) LumX-FC Red Brake/Blinker
Comes with all 4 bulbs needed for your rear Running / Brake Lights
Discover The Most Advanced
Brake Lights Available Today
No resistors/rewiring
Cooling fan for LED chip
1,000 Lumens each
Let's talk "stock"…
More specifically, stock brake light bulbs.
The minimum brightness allowed on road-worthy vehicles is a measly 80 lumens. If you've ever bought light upgrades for your car, truck or SUV in the past… You know that is downright dim.
In fact, that's what we at LumX call… Practically invisible.
Reasons why you need to upgrade your stock brake lights:
You face a higher chance of accidents with slow and dim brake lights
The "normal" bulb lifespan of 250 hours is less than 15,000 miles
Aftermarket bulbs simply "pop" out on the road and make your vehicle modern
Better light distribution and visibility in all situations, day and night
Your Brake Light Advantage:
LumX-FC Technology
Seamless Installation
Most other LED brake lights use resistors, requiring you to rewire your brake lights during installation, but we take a different approach.
LumX-FC brake lights are designed to look and behave like stock brake lights (but 5X brighter on average), with ZERO resistors required during install, making them 100% error-proof. Additionally, the LEDs are embedded in chrome plated hardware so there's no ugly black LED light in your taillight housing.
Superior Color & Illumination
LumX-FC brake lights boast an incredible 1,000 lumen brightness in each bulb (450 lumens for running lights), which is immediately available as soon as you hit the brakes. Normal brake lights take up to 1 second to illuminate after hitting the brakes; LumX-FC is instant.
Plus: LumX-FC LEDs are true red, meaning you'll have a bright red bulb behind red tinted glass, making your brake lights shockingly red in hue compared to everyone else on the road.
Technological Resilience
You buy LED bulbs for advanced service life and brightness, but so many LEDs burn out far before they should. Why? Overheating. Most companies do nothing to address this.
LumX-FC is different. Inside of each LED, we've implanted a small soundless fan that runs while your car does, keeping the LED chips cool and dramatically extending the life of your brake lights.
You'll Simply Be More
Visible Anywhere You Go
Start enjoying greater performance and convenience with LumX-FC:
Electrically simple to install, without needing a single resistor for maximum performance
Technologically superior, with built in soundless fans to cool the LED chips
Aesthetically the same as stock bulbs, with plug-and-play chrome housing
Immediately functional – the true red bulb activates instantly when you hit the brake
Advanced brightness boasting 1,000 lumens each bulb, with 450 lumen running lights
Rest Assured You're Covered
Many of our products come with a limited lifetime warranty! If our limited lifetime warranty is not listed it comes with our minimum
1 year warranty!
We don't make you ship back the old bulb.
We know your time is valuable. We don't want to ask you to waste it driving to the post office. Have a warranty issue?
Contact our daily customer service and we'll get you taken care of!
They look awesome but I haven't installed them yet hopefully this weekend
Top Notch!
I recently contacted DieselLEDs as I had a bulb that would intermittently flicker. After they advised me the bulb was a few years old and out of warranty, they discounted a new set and sent to me right away. Thank You DieselLEDs for being the best!!!!
Great lights!
Easy to install and much brighter and safer than stock. Definitely recommend!
LUMX-FC RED Brake / Running Light (3157)
2018 RAM 2500
Easy install, solid construction, I want to find brakes as bright as they use on ambulance, these are close being that bright, no hyper flash or error codes
Free First Class Shipping
Fast Processing
Ships same day
Order by 12pm Est.
60 Day Returns
Easy, hassle free returns
Expertise
We've got years in the industry to help with any questions