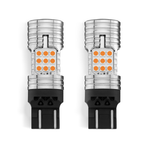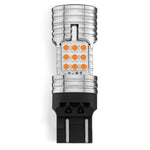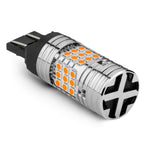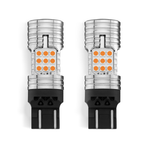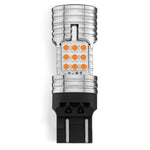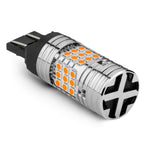 LUMX-FC Amber Blinker (7443)
Regular price
Sale price
$99.99 USD
Unit price
per
60 Day Hassle Free Returns
Same Day Processing - Orders Before 12pm Eastern
In Stock Ready to Ship
When it comes to keeping your LED blinkers performing at their best, look no further than the LumX-FC fan-cooled LED blinkers. An industry new for your car or truck.
Industry Unique Fan Cooling Technology
Not only do our LumX-FC LED blinkers provide maximum visibility on the road, but their advanced fan cooling system ensures that the high-powered LEDs stay cool and performing at their best, even during extended use. Say goodbye to overheating and hello to optimal performance and longevity.
Our LED blinkers are easy to install and built to last, making them the perfect solution for all your signaling needs.
Most advance CANBUS Technology Available
This means, whether you're using them as turn signals, brake lights, or hazard warning lights, you can rely on our fan-cooled LED blinkers to NOT hyper-flash and work properly in all applicable sockets.
Chrome plated housing for a clean OEM look
One thing that's always bothered us with aftermarket LED bulbs, is when you install it, and the bulb has bright colors on the bulb itself. Which then show on the reflectors housing. Causing an ugly hue to the reflector housing. This is why, not only do we not design our bulbs with any colors that will reflect. But we also chrome plate the bulb, so it blends right in with the hosing. Blending in even better than the OEM bulb in our opinion, for a clean "non tacky" look.
Upgrade your signaling system today with our LumX-FC LED blinkers designed for trucks and cars. With their advanced cooling system, you can trust that your blinkers will be bright, attention-grabbing, and long-lasting. This is why we back them all with a
2 YEAR WARRANTY
Don't wait - get your LumX-FC fan-cooled LED blinkers today and enjoy the benefits of cooler, brighter, and longer-lasting performance on the road!
Rest Assured You're Covered
Many of our products come with a limited lifetime warranty! If our limited lifetime warranty is not listed it comes with our minimum
1 year warranty!
We don't make you ship back the old bulb.
We know your time is valuable. We don't want to ask you to waste it driving to the post office. Have a warranty issue?
Contact our daily customer service and we'll get you taken care of!
So far so good!
These amber LED's were the last install in my 15 Silverado for all my lights. So far so good! Noticeably brighter. Vey sharp amber projection. Little challenging to install on front drivers side as Chevy wasn't kind enough to give reasonable access to the install location. Still, it was worth the challenge. Anxious to see how all the Diesel LED's perform down the road.
2023 Tacoma
I bought every single led bulb i could to replace every light on my 23 tacoma. they work great except when on the DRL mode. Then they hyper flash.
Bright LEDs
These bulbs are perfect for my '17 Toyota Sienna SE. I am so glad I got them from Dieselleds!
Very BRIGHT. BUT
I installed the lights for the backend (brake lights and turn signals. I now have a hyper flashing issue. Any thoughts how to stop this?
Excellent Lights
Thank you for your product. I am also excited that you are a NC company and I love my lights. I have the reverse lights and just got the front blinker lights. I will be doing a video review on my YouTube channel at Risen Son Adventures for my Nissan Frontier truck mods. Great products and I will be ordering the break lights next.
Free First Class Shipping
Fast Processing
Ships same day
Order by 12pm Est.
60 Day Returns
Easy, hassle free returns
Expertise
We've got years in the industry to help with any questions