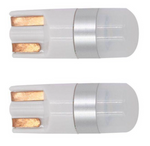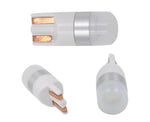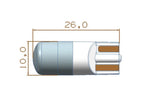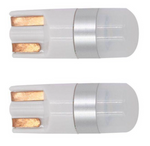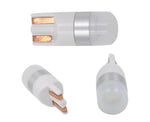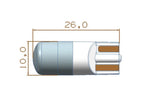 Set of 194 LEDs
Regular price
Sale price
$15.99 USD
Unit price
per
Sale
Sold out
60 Day Hassle Free Returns
Same Day Processing - Orders Before 12pm Eastern
In Stock Ready to Ship
Description
Description
(Fits All Makes And Model Trucks)
Premium Design License 194 Bulb Replacements.
The word premium gets thrown around a lot in marketing. But in the case of these license plate bulbs, there's not much more you could implement to get a nice "clean" look out of upgrading your 194 bulb application 
Design
Our goal when designing a license plate bulb was to make it brighter than the stock bulbs, but not so bright that it lit up the whole tail gate. So we put what's called a Partial Reflector Lens on our bulbs. This takes the light and evenly distributes it out like the stock bulb does. This gives it a stock appearance except with the crisp white modern look you want. 
The connections on these bulbs, like most our bulbs, are copper connections. This ensures that they'll last the lifetime of the bulb, as most times when smaller LEDs like this have issues it's caused by the connections not the LED chip. This is why we over engineer our connectors and build them to last. 
Specs
Design Specs

1.) Power: 5 Watts
2.) LED Quantity: 1 PCS OSRAM S5 LED Chip
3.) Lumens: 300lm
4.) Input (mA): 150+-20
5.) Voltage: 12V-24VDC
6.) Light Angle: 360 Degrees
Reviews
Rest Assured You're Covered
Many of our products come with a limited lifetime warranty! If our limited lifetime warranty is not listed it comes with our minimum
1 year warranty!
We don't make you ship back the old bulb.
We know your time is valuable. We don't want to ask you to waste it driving to the post office. Have a warranty issue?
Contact our daily customer service and we'll get you taken care of!
Do you have any video clips we can see the before and after ?
Free First Class Shipping
Fast Processing
Ships same day
Order by 12pm Est.
60 Day Returns
Easy, hassle free returns
Expertise
We've got years in the industry to help with any questions