Why is this not normal?
It's true... For most car manufacturers, reverse lights are an afterthought - only there to signal when you're backing up. We asked: what if they were actually functional? What if they provided usable light that helped you see what's behind you?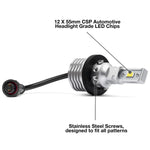 Significantly brighter than stock bulbs
Your average 3156 Halogen reverse light bulb comes in at around 402 Lumens per bulb. Compare that to the 3000 Lumens of the LumX bulb, and you can easily see how the difference between the two can literally be night and day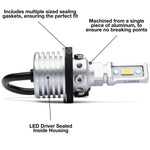 Rugged One Piece Design
LED chips need to stay cool for maximum lifespan – that's why the new LumX reverse light is milled from a block of aluminum into a sleek, yet heat-dissipating (and energy-efficient) design.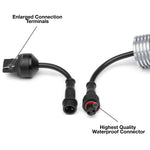 3 Year Warranty
Each and every set is backed by our unparalleled three-year warranty. If you happen to experience any issues with your new LumX bulbs, please reach out and we will be sure to get you taken care of.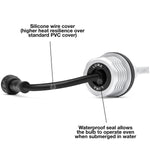 Research and Development
In the past six years, we've sold over 100,000 sets of the original Lumenex Reverse Lights. We have received thousands of emails raving about our products and many asking for changes and improvements. We've saved every critical review and addressed every issue from the original design. As a result, our customers have helped us create what might be the world's best reverse light bulb with the new LumX Reverse Upgrade.
Find the LumX reverse set for my vehicle
Free First Class Shipping
Fast Processing
Ships same day
Order by 12pm Est.
60 Day Returns
Easy, hassle free returns
Expertise
We've got years in the industry to help with any questions