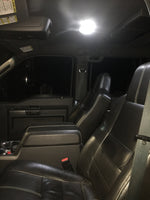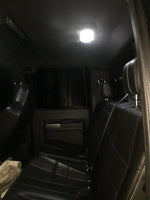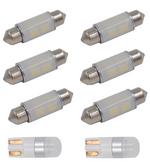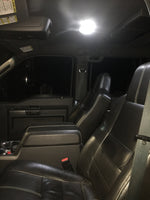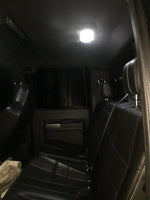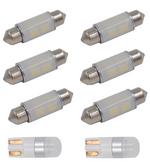 Samsung LED Interior Kit 1994-2016 F250,350,450
Regular price
Sale price
$40.00 USD
Unit price
per
Sale
Sold out
60 Day Hassle Free Returns
Same Day Processing - Orders Before 12pm Eastern
Limited Lifetime Warranty
In Stock Ready to Ship
Description
Description
Our extremely bright LED Interior kit for Fords year 1994-2016 Includes both the main dome lights and all 4 of the manual switch map lights located on the side of the dome lights. All Bulbs are 120 Lumen Samsung LED Bulbs and are direct replacements for stock bulbs.
COMPLETELY PLUG AND PLAY!! ONLY MINUTES TO INSTALL.
Specs
• Fits Crew Cab, Extended Cab and Single Cab Models (1999-2016)
• Fits all Crew Cabs (1994-2016)
• 120 Lumen Samsung Bulbs
• Includes all 6 Dome Lights
• Plug and Play direct replacement for stock
Reviews
Rest Assured You're Covered
Many of our products come with a limited lifetime warranty! If our limited lifetime warranty is not listed it comes with our minimum
1 year warranty!
We don't make you ship back the old bulb.
We know your time is valuable. We don't want to ask you to waste it driving to the post office. Have a warranty issue?
Contact our daily customer service and we'll get you taken care of!
Samsung LED Interior Kit 1994-2016 F250,350,450
Great
Love the lights for the interior of my truck. SO bright!
Interior Lights
Install was a bit of a pain but that's on Ford. Lights are bright, my only complaint is the rear cab light doesn't fit firmly into connectors so light is a bit spotty coming on.
But I am very satisfied with my purchases!
2008 F250 KIT
Super bright! Glad I upgraded
Samsung interior lights
The interior light package is a night and day difference. I have ordered from Diesel LEDS in the past and have been impressed with each order. I did have a problem with one order I reached out to them and they have the best customer service. They got back to be right away and we figured out the problem and they sent me what I needed free of charge. I would definitely order again.
Free First Class Shipping
Fast Processing
Ships same day
Order by 12pm Est.
60 Day Returns
Easy, hassle free returns
Expertise
We've got years in the industry to help with any questions